Solutions for Everyday Marketing
Working together with small businesses like yours, we can help you with all of your marketing efforts.
We are here to help!
All Island Media, Inc. is a full-service marketing agency with decades of experience creating successful campaigns for thousands of small business just like yours! Our specialization in print, web and community marketing allows us to deliver comprehensive strategy, design, distribution and marketing services that align with your goals and objectives.
Direct Marketing Specialists
Our sales staff of direct marketing professionals have a vast amount of experience helping clients like you find solutions that cut through the confusion and consistently produce results. Even the most challenging advertising needs can be met with the correct mix of customized solutions and dedicated client focused sales representatives. 
Print & Digital
All Island Media offers you multiple print and digital products that lets you engage and connect with your customers in compelling and innovative ways.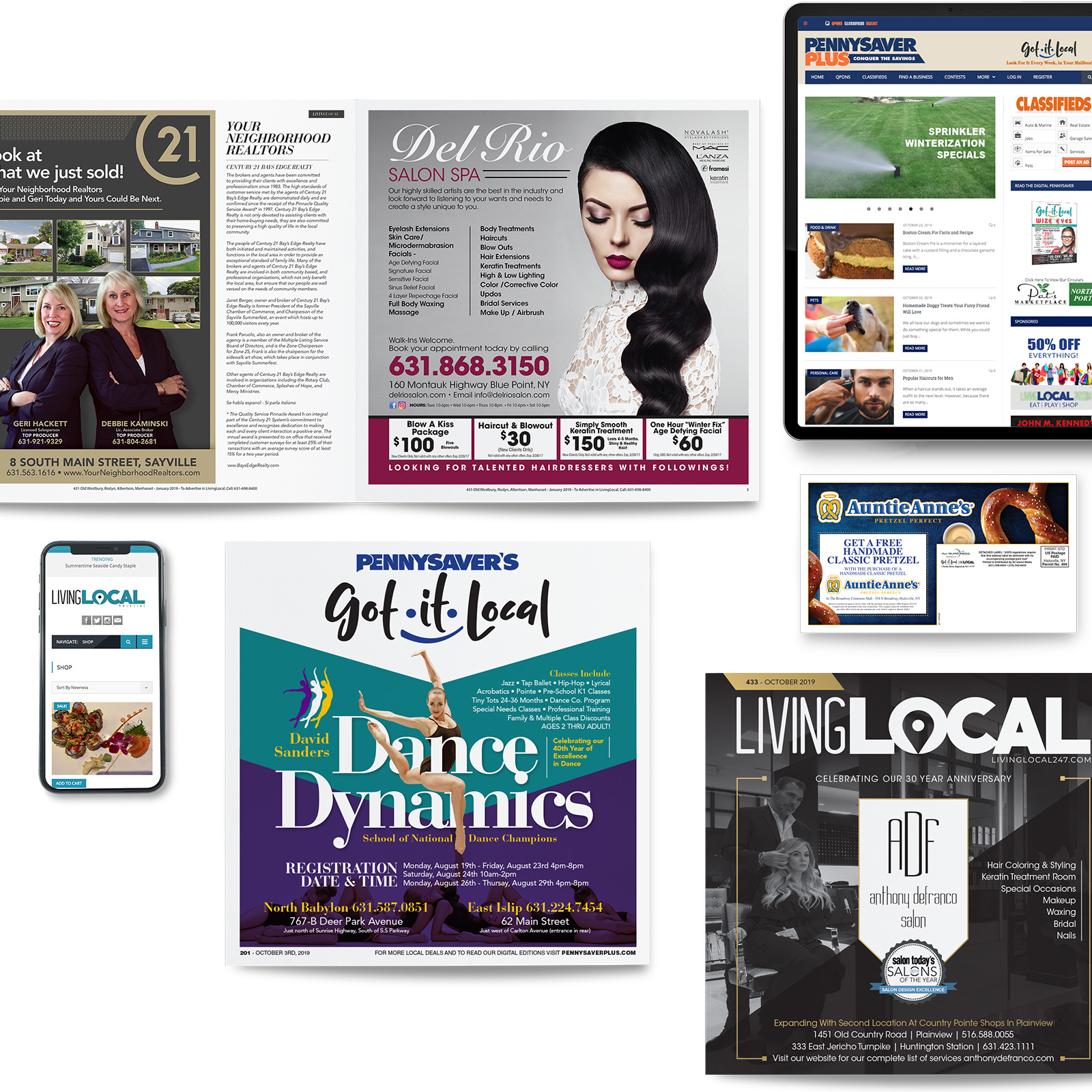 We work with you to make functional & powerful digital experiences to help your business grow. From web design, social media marketing, search marketing, our in-house team of experts can handle it all! Our team is made up of design thinkers, problem solvers and go-getters that bring passion & skill to everything we do!
96% of Facebook users accessed via mobile devices

96%

96%

74% of Facebook users visit the site daily.

74%

74%

Over half of all Google search visits (61%) take place on a mobile device.

61%

61%
The Pennysaver, now known as Got It Local, is a weekly shopper mailed to 800,000 homes on Long Island every week since 1958. It's the place to find local deals and classifieds. It is also an effective way for you to brand your image through a consistent weekly frequency program. Various ad sizes are offered and premium positions are available. Use our half, full page and cover ads to make an impact and catch readers' attention. Our smaller ads are a perfect tool for getting your message out to multiple areas.
88% of millennials believe print is more official than digital.

88%

88%

62% of US consumers admitted that they actually enjoy checking their mail.

62%

62%
Glossy full color postcards and flyers mailed weekly to any neighborhood on Long Island for 50% less than if you mailed them yourself. Direct mail has a strong presence and continues to grow! It is an effective way to reach a large audience. Call us to find out more about our direct mail options.
Percentage of consumers who trust direct mail when they want to make a purchase decision

76%

76%
Long Island's best monthly magazine published & delivered to more than 500,000 homes on Long Island every month. Within your Hometown, extending across Long Island, Living Local will offer monthly features on shopping trends, latest restaurant reviews, entertainment, and special interests. Living Local will quickly become your "Go To" magazine for all your family's needs.
73 percent of Americans prefer physical mail for brand communications specifically because they can read it at their convenience.

73%

73%
We invite you to sit down with us, the trusted professionals at
All Island Media 
and experience the difference!
Reach Your Customers Where They're Looking
Get a FREE Month* of
Our Exclusive Hyper-Local Marketing Program with a Scheduled Consultation!