1 MONTH FREE MARKETING*
Get a FREE Month* of Our Exclusive Hyper-Local Marketing Program with a Scheduled Consultation!
Solutions for Everyday Marketing.
As a business professional with a multitude of responsibilities, you are challenged with growing your customer base in an increasingly competitive and sometimes confusing environment.
We are here to help!
All Island Media, Inc. is a full-service marketing agency with decades of experience creating successful campaigns for thousands of organizations of all sizes. Our specialization in print, web and community marketing allows us to deliver comprehensive strategy, design, distribution and marketing services that align with your goals and objectives.
Direct Marketing Specialists
Our sales staff of direct marketing professionals have a vast amount of experience helping clients like you find solutions that cut through the confusion and consistently produce results. Even the most challenging advertising needs can be met with the correct mix of customized solutions and dedicated client focused sales representatives. 
Print & Digital
All Island Media offers you multiple print and digital products and services that enable you to connect with your clients in compelling and innovative ways.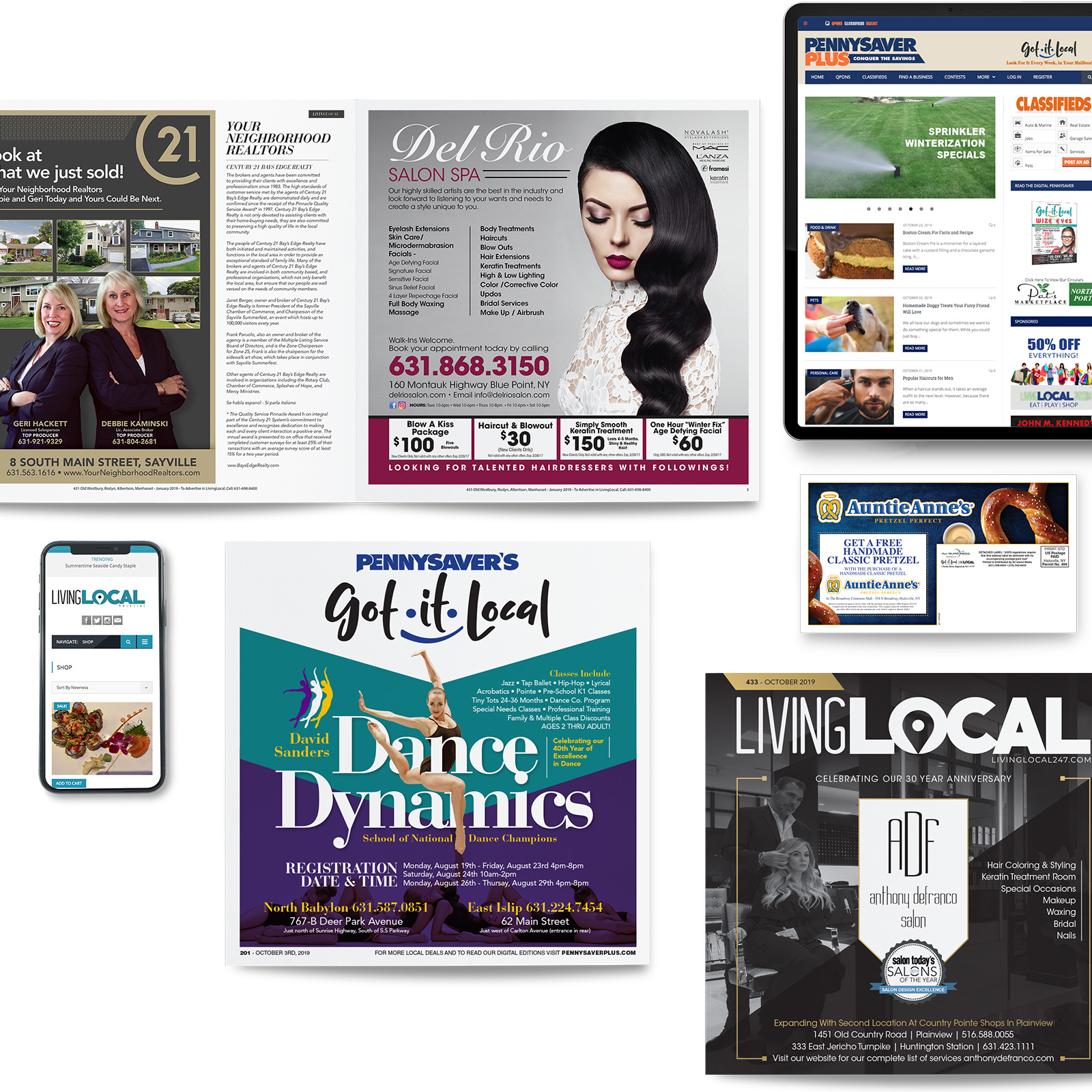 PS Digital prides itself on being able to offer our clients the ability to create beautiful responsive websites, an effective Search Engine Marketing campaign, a reliable Search Engine Optimization strategy, an active social media presence, a strong reputation management service and a detailed email marketing campaign. Our success in offering these services can be traced back to our knowledgeable and qualified staff that is second to none.
Using visual content like videos on landing pages can improve conversions by

86%

86%
The Pennysaver, now known as Got It Local is a weekly shopper mailed to 800,000 homes on Long Island every week since 1958. The place to find local deals and classifieds. It is also an effective way for you to brand your image through a consistent weekly frequency program. Various ad sizes are offered and premium positions are available. Use our half, full page and cover ads to make an impact and catch readers' attention. Our smaller ads are a perfect tool for getting your message out to multiple areas.
Percentage of consumers who use coupons in some way

90%

90%
Glossy full color postcards and flyers mailed weekly to any neighborhood on Long Island for 50% less than if you mailed them yourself. Call us to find out more.
Percentage of consumers who trust direct mail when they want to make a purchase decision

76%

76%
Long Island's best monthly magazine published & delivered to more than 500,000 homes on Long Island every month. Within your Hometown, extending across Long Island, Living Local will offer monthly features on shopping trends, latest restaurant reviews, entertainment, and special interests. Living Local will quickly become your "Go To" magazine for all your family's needs.
18 to 23 year olds find it easier to read print over digital content

92%

92%
We invite you to sit down with us, the trusted professionals at
All Island Media 
and experience the difference!
Reach Your Customers Where They're Looking.
Get a FREE Month* of
Our Exclusive Hyper-Local Marketing Program with a Scheduled Consultation!